Asking
€ 37,000
£ 31,413 | USD $ 40,500
---
Bedrooms: 3
Bathrooms: 2, Showers: 2
Type: Villa-House
Size: Floor: 132 (m2) Land: 375 (m2)
Sale Type: Resale , Date Built: 2007 (end)
---
Advert last updated: 4/2/2020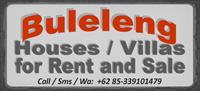 Agent/Owner:
Buleleng Houses
Buleleng Houses & Villas for Rent and Sale
Location: Indonesia
Speaks: English, Dutch, Indonesisch,
notification_important Avoid Fraud – Read our Disclaimer
Holprop LTD does not act as a broker or agent in anyway for any of the properties hosted/advertised on this website and we do not take or arrange bookings. The content information is provided by the owner/agent of the property. Any contractual arrangements regarding purchase or rental of any of the properties will be strictly between the property owner/agent and yourself and does not involve Holprop Ltd. in any way.

It is the responsibility of the person proposing to rent or buy any property to satisfy themselves of the accuracy of the details before they proceed and the responsibility of the owner/agent to satisfy themselves as to the validity of any proposed renter/buyer. We are simply a hosting portal for individuals or companies to advertise their properties.

We do however reserve the right to remove any properties for any serious misrepresentations or unsatisfactory practices where we have received multiple complaints.

Report this advert
Report and Flag this advert.
Large standard family house. Near the beach Now reduced in price !
Update:
Now Reduced in investment price !

Large standard family House, located Bondalem Tejakula BHV 9-03

The house in general: Surface area 4 Ares (400 sqm). Surface property 132 square meters, excluding the garage and outside kitchen.
Built in the year 2007.

Layout: living room with ceiling fan, open kitchen with bar, 2 bedrooms, 1 small bedroom or storage room, 2 bathrooms with shower and toilet, large outdoor kitchen, garage, driveway for 2 or 3 cars, 2 terraces, gazebo, large garden on the side and on the front side.
Furnishing: leather couch, cupboards, tables, kitchen complete with fridge, pans, cutlery and crockery, rice cooker, 2 x 2 person beds, wardrobes, washing machine, TV unit including TV, satellite dish, WiFi, paintings and more. (as on the pictures)

The outside environment: is a quiet area with a few houses, the road to the house is very passable, only 2 minutes from the main road, less than 10 minutes walking distance to the beach, there is a supermarket around the corner and there are many warungs where you can also buy food. Towards the beach you also come across villas and some schools.

Connections: Total electrical connection value is; 1.3 Kwh (1,300 Watt.)
Wifi data and internet is with; prepaid, tv channels is from satellite,
Gas is with bottle 3, 5.5 or 12 kg.

In short: it is a cozy family home in a quiet location with options, such as creating a swimming pool and fishing pond, sufficient space to park motorbikes and cars, close to the beach, and the neighbors are friendly and helpful.
Fully furnished.

The well-kept house is for sale as well as for rent.
On all our sale properties on land and also vacant piece of land what we sell is:
- Freehold land, Hak milik (Right of ownership)
- Certificate is present.
- IMB (Permit for the built home), for the properties on land.
- On some properties there are an option with us, " rent first, then buy".
If applicable, this is stated with conditions.

On this property are not a option rent first than buy !.

- If you are interested in buying this house, do not hesitate to make an appointment with us.
WA us 62 1479

Update 2020, reduced in price. IDR (570 Million)
Was Sale price IDR (600 Million)

For the correct Currency price rates from your own country of origin,
are the daily rate applies. You can look this up at; xe.com or on our website.
Only bank rates apply to bank transfers.

All prices above can be negotiable, ask for it.

Extra option with us. You can complete the registration form on our site,
so that we can help you find your wishes faster.

For more information, contact us.

WhatsApp: 62 85 339 101 479
E
W bulelenghousesforrentandsale bitrix24 site


Notes:
Nearest Airports: Ngurah Rai International Airport, 70 km
If you want the layout plan drawing house, ask for it. the woning is now available.