Asking
€ 25,200
£ 21,395 | USD $ 27,584
---
Bedrooms: 2
Bathrooms: 1, Showers: 1
Type: Farmhouse
Size: Floor: 94 (m2) Land: 100 (m2)
Sale Type: Resale , Date Built: 2013
---
Advert last updated: 4/2/2020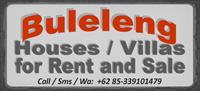 Agent/Owner:
Buleleng Houses
Buleleng Houses & Villas for Rent and Sale
Location: Indonesia
Speaks: English, Dutch, Indonesisch,
notification_important Avoid Fraud – Read our Disclaimer
Holprop LTD does not act as a broker or agent in anyway for any of the properties hosted/advertised on this website and we do not take or arrange bookings. The content information is provided by the owner/agent of the property. Any contractual arrangements regarding purchase or rental of any of the properties will be strictly between the property owner/agent and yourself and does not involve Holprop Ltd. in any way.

It is the responsibility of the person proposing to rent or buy any property to satisfy themselves of the accuracy of the details before they proceed and the responsibility of the owner/agent to satisfy themselves as to the validity of any proposed renter/buyer. We are simply a hosting portal for individuals or companies to advertise their properties.

We do however reserve the right to remove any properties for any serious misrepresentations or unsatisfactory practices where we have received multiple complaints.

Report this advert
Report and Flag this advert.
this property nice cozy little house. For a super cheap local price, that will yield more each year,
Reduced in price 29-10-2019 The owner (also our good friend) has just asked us to offer his property immediately for the absolute floor price.
This due to private circumstances and would prefer to have it sold today. For a very attractive price cheaper is no longer possible.
The house is already empty except for a few things that are left behind such as TV and more and the house is completely clean. You can enter it immediately ...
WA 62 1479

This property which we have listed and inspected,
Is a cozy small good and clean maintained standard house on 1 ares of land, the house has about 94 m2 built area in the year 2012 with:
2 bedrooms, 1 bathroom, garage or extra living room with roof, kitchen, terrace, stairs to pray (Balinese style), there is also a shed, enough space to park some motorbikes and scooters, a car can be parked in the garage,
The area is extremely quiet, this also in particular that the street is completely dead end, no noise nuisance vehicles pass by.
In the area is also a park within walking distance where annual competitions are held such as with cow rose and many more.
Krisna park is close by as well as Central Lovina and Hotspring.

The owner wants to sell the property quickly and cheaply, there is also TV, curtains, a dish antenna for TV and radio,

For a cheap investment that will yield more each year, this property is extremely suitable for kids.

The asking price is therefore currently.
For serious candidates, "Seeing is buying"

Property can be viewed daily.
Attract this lovely home to you, don't hesitate to make an appointment with us:

Sale price Now is only IDR

On all our properties on land and also vacant piece of land what we sell is:
- Freehold land, Hak milik (Right of ownership)
- Certificate is present.
- On some properties there is an option, rent first, then buy.

On this property are not rent first than buy !.

For more information or direct an appointment:

Please contact us.
62 85 79
bulelenghouses gmail.com
Or complete the questing form on our webpage,
bulelenghousesforrentandsale bitrix24 site
For booking directly 1 of our properties, you must consult our bookings calendar
for availability of your desired.


Notes:
The house is now 29-10-2019 Reduced in price, sorry but cheaper is not possible!